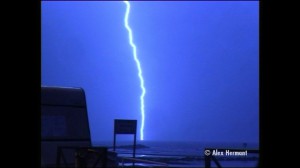 Self-portrait 
I've specialized in the photography of storm phenomena for 25 years. I'm a professional field photographer of lightning but, above all, an enthusiast awestruck by something that has never ceased to escape scientific understanding… an elusive mystery.
My calling isn't so much that of a "storm chaser" but rather that of a lover of light and, since childhood, I have always found the trail of lightning to represent its very essence.
What drives me: an inveterate appetite for images that are both esthetic and spectacular, for supernatural atmospheres, the permanent search for extraordinary and unexpected phenomena. And even more, the enchantment experienced in the presence of the unknowable.
Below I include an excerpt from an interview on the site chasseur d'orages.
Chasseur d'orages: How was your passion for storm chasing born? What are your motives?
Alex Hermant: When I was seven years old, I was captivated by a black-and-white photo by Rudel in the Quillet encyclopedia, which showed heat lightning with high-power lines in the foreground. I gazed at this image for hours at a time, absolutely fascinated by the phenomenon. I think my passion was born at that precise moment and with it the irresistible desire to devote myself to it. What's more, at that time I was living near Marseille under a 220,000 volt wire that got frequently struck by lightning. You ask what my motives are… I think that, above all, it's about witnessing an exceptional natural phenomenon which, for the past forty years, has given me a constant feeling of astonishment and awe. What I get out of it is simply the feeling of being where I belong.
C.O.: What is your favorite memory of storm chasing?
Alex Hermant: There are several. I remember one storm in particular (in a forest in Sancerre), a low-pressure zone caught in a local flow shifting from NE to NW. Generally these are awesome storms and indeed my car was struck by lightning. The truly fascinating and impressive part was the high concentration of lightning along this tiny forest road. At the peak of the storm, I no longer felt like I was on earth, the climate was unreal and the intensity of the phenomena made me feel as though I had been plunged into the middle of a film or an improbable story. Though the episode only lasted for a relatively short time, it felt like time was frozen or at least very slowed-down. It felt like a gift. As you might imagine, I've been waiting for a similar event every since, and when it does happen, you better bet I'll capture it on video!
(…) the full interview (in French) 
You can still procure his book published in 1999, notably on the site of the FNAC.
Alex Hermant (Author), Gérard Berger (Preface) – A handsome book (cartonné). Published in 03/1999. Editor: Nathan.