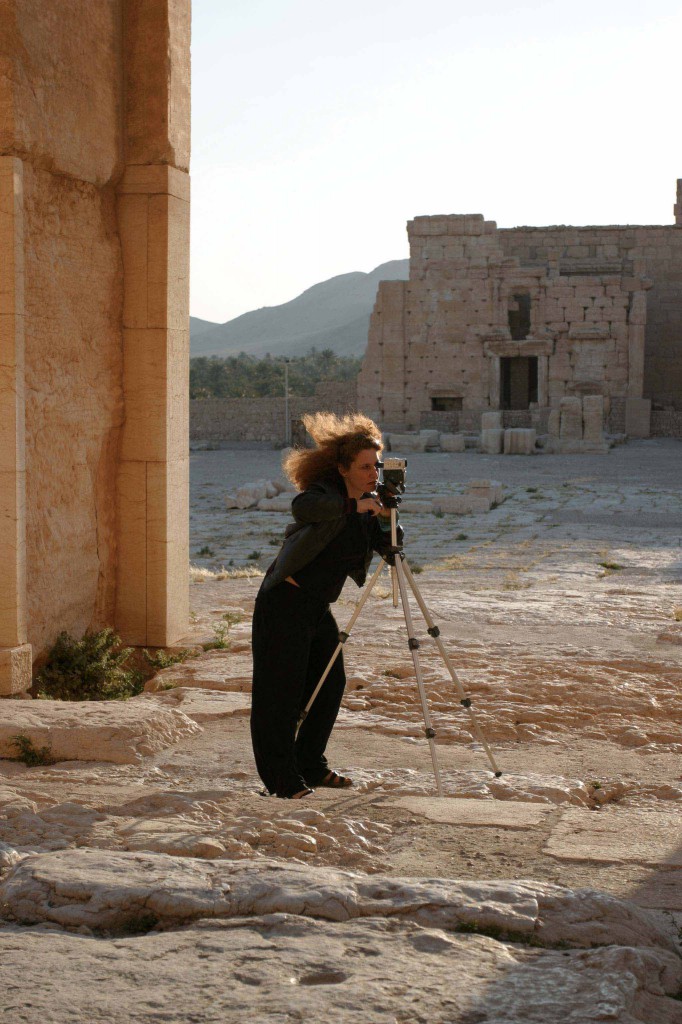 LIGHTNING is an auteur film that breaks the mold, just like its director, Manuela Morgaine. Of Egyptian and Mediterranean descent, born in 1962, she lives and works in Paris.
Prix de Rome for scenography, 1994.
Villa Médicis Hors les Murs Laureate, 2004.
A writer, director and filmmaker, she is president of Envers Compagnie, a company devoted to the production of interdisciplinary works since 1991.
STAGE DIRECTION / MUSIC:
Dieu Grammairien, théâtre de la Bastille, 1991
L'Analogue, théâtre de la Bastille, 1994
Par les dents, théâtre de la Bastille, 1997
Juliette Pose 97, with Anne de Broca, Ecole des Beaux Arts de Paris, 1997
Blanche Neige, based on Walser, Centre Culturel Suisse, 2001
Maliétès, bands from Greece and Turkey, at the Chai du Terral in Montpellier in 2003, at the Cabaret Sauvage in Paris in 2004.
L'art de la figue, an opera based on Francis Ponge and Johann Sebastian Bach, composed by Johannes Schöllhorn, at the Strasbourg Musica Festival and at the Lille Opera in 2006.
Handmade, a performance with 5 puppeteers and 5 musicians produced by the Union des Musiciens de Jazz and Theema, Le Grand Parquet, Paris, October 15, 2011.
Le Cabinet du docteur Cagnulari, A radio lab workshop co-written and directed with Christophe Cagnolari of the Ensemble ANIYA, broadcast on France Culture January 5th, 2011 and presented at the Pitié-Salpétrière in its stage version in June 2013.
PUBLICATIONS:
Le sommeil d'Ecume, with photos by Patrick Faigenbaum, Editions Creaphis.
Les metamorphoses, based on Ovid, Editions Albin Michel. Le Potager du Roi, Editions Gallimard.
Buvard et Ricochet, an encyclopedia of great writers for small readers, Editions Le Baron Perché (Livre jeunesse Award, 2007, Bologne)
 Tohu Bohu directed by Thierry Roisin, Le Journal de bois, directed by Jean-Pierre Larroche.
Zeurope, directed by Natacha Kantor. Wpsyché, morbid ideations and blind spots, with Dr. William de Carvalho, Editions Al Dante.
Author of numerous Radio Lab Workshops broadcast on France Culture as well as fairytales for children.
VOICE WORK:
Musical theater pieces including those of Richard Dubelski and Georges Aperghis in the 1990s.
Documentary and fiction films:
Time Regained, by Raoul Ruiz, 2002.
The Origin of Christianity and The Apocalypse, a series of 22 documentaries by Jérome Prieur and Gérard Mordillat, Arte, 2004 & 2008.
For INA (French Radio and Television Archives) the Medmem Website, designed by Matthieu Serrière, 2010.
PERFORMANCE ART:
In the form of projections on blocks of ice for the Paris Nuit Blanche, 2002 and 2003:
Blanche Neige Nuit Blanche, Parvis de la Gaieté Lyrique, Paris, 2002
Iceremony, Sweedish Cultural Centre, Paris, 2003.
And for the event Paris-Ville Lumières:
Icelectric, Swedish Cultural Centre, Paris, December 2004.
Projections of lightning impacts on ice, foreshadowing the feature film Foudre (in coproduction with the EDF Foundation).
In the form of Sound Pillows during JAVAMOUR a concert-performance organized by Cyril Hernandez at La Java, Paris, June 20, 2011.
Trail of Tears Performance in Maubert Gallery, Paris, 25,26,27 of september 2013.
FILM DIRECTING:
Posthums, a 16mm film, 1994.
VA, a 35mm film based on Casanova, with Yann Collette, at the MK2 Beaubourg cinema in Paris, and at the Lieu unique in Nantes, between 1999 and 2001, at the Paris Cinéma festival in Paris at MK2 Quai de Seine in 2003.
Paraïso, vidéo 10 minutes inspired by Robert Walser Snow White, Envers Compagnie, 2001.
On the wild side, a 52' DV film, 2003.
If a swallow doesn't make spring, which swallow ? a 94' DV film coproduced with Pascal Convert, Artistes&Associés in 2007.
Pathos Mathos, a 59' DV film produced by Mezzanine Films with funding from the Centre National du Cinéma and the CNAP, in 2007 (the wintertime of Foudre, a feature film in four seasons).
The Legend of Symeon, a 44' DV film produced by Mezzanine films with funding from CNAP, 2008 (the springtime of Foudre).
Baal, a 94' DV film produced by Envers Compagnie and Mezzanine Films, 2009 (the autumn season of Foudre).
Apocalypse 2,2 a 20' DV film produced by Envers Compagnie, 2009.
Atoms, a 52' DV film produced by Envers Compagnie and Mezzanine Films, 2011 (the summertime of Foudre).
LIGHTNING, (a 3-hour 50-minute feature, made between 2004 and 2012 against all odds and without the support of cinema and television institutions). Currently on tour in major international festivals and coming soon to a theater near you.
ONGOING PROJECTS:
ORAKL, an interactive ice installation www.enverscompagnie orakl a door that talks to you.
In production.